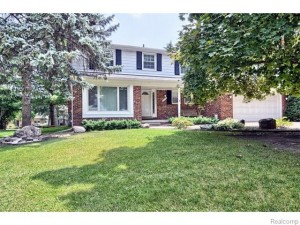 Located in the great community of Northville, the residential neighborhood, Northville Colony Estates, is an incredible community of gorgeous homes and friendly neighbors.
Here, the stately homes that comprise this community range from 1,400 to 2,450 square feet of living space and offer more than 3 bedrooms and as many bathrooms.
Often, these homes list for upwards of $250,000, which is truly a bargain when you consider all of the amenities that these properties come with.
And now, we are pleased to announce that you have a rare opportunity to make this community our home: According to our sources, there are now two homes available for sale on the market here. Continue reading to learn more!
Life Is Great as a Northville Colony Estates Resident
Before we tell you about these new listings, we thought we would provide some helpful information about the community itself.
As previously mentioned, houses here usually come with more than 1,400 square feet of living space, giving residents plenty of room to grow.
Inside these lovely properties, interested home buyers will discover such features as
Wood flooring
Apoxy floor
Spacious patio
Finished basement
And more
What's more, this neighborhood is conveniently close to several parks, restaurants and shopping experiences.
It also is well-known for hosting a number of community-wide events through its neighborhood association. This includes the Egg Hunt in the Spring and a neighbors-only camp out in the summer.
Is This Your Next Northville Home?
Now is your chance to own your own piece of real estate here. According to property records, there are two new listings in this community.
The first one is located at 15718 Portis Road in Northville. This home features 2,229 square feet of living space, including 4 bedrooms and 2.2 bathrooms. It is listed for $325,000. Some of the interior features that buyers will love include a lovely fireplace, first floor laundry and mature vegetation on site.
The second home listing is located at 16992 White Haven Drive. This home offers 2,260 square feet of living space, which includes 4 bedrooms and 2.1 bathrooms. It is currently listed at $325,000. Interior features that buyers are sure to be impressed by include granite counter tops, ceramic kitchen tile, large brick natural fireplace, spacious private backyard and more!
Buy Your Next Home in Northville Colony Estates
If this sounds like exactly the kind of community you've been searching for on the local housing market in Northville, then please contact us at The Kekich Team.
We'd be happy to answer any lingering questions you might have about the available listings here as well as provide you with some valuable home buying resources.
Until next time,
Brandon